Playing with Spike is a fun, interactive app that teaches your child the fundamentals of music reading and piano playing, and develops their musical ear. Combining games with music education methodology, you can jumpstart your child's musical education by turning learning into playtime.
Playing with Spike is fun and engaging for kids. They can learn to play piano and read music by following Spike's adventures and playing games.
Watch this video to see how it works
Benefits of learning the piano with Spike
Playing with Spike has been designed for children between 6 and 11 years old, but this doesn't mean that parents can't join in. By Playing with Spike alongside your child, not only will you learn the fundamentals of piano playing, but you will also strengthen the emotional bond between you and your child.


Improves reading and comprehension skills
Spike will teach your child to identify a note and recognise which key to play, how long to hold it and what finger to use.
Develops confidence
Spike is an engaging character with a can-do attitude so your child will see him/herself positively reflected on Spike and his adventures.
Improves memory skills
Through games, your child will learn how to create, store and retrieve memories more effectively.
Teaches discipline and patience
Playing with Spike will helps your child ease into the discipline of practice in order to reach specific goals.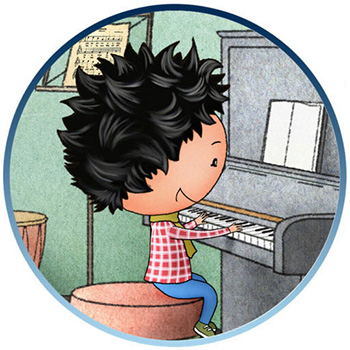 Develops coordination and motor skills
Spike will teach your child how to apply different actions to his/her left and right hands simultaneously.
Sharpens concentration and listening skills
Your child will learn to listen carefully for rhythm, pitch and tempo, and to intructions to complete the games successfully.
Improves academic skills
By learning music notation, rhythm and beat, your child is building a good foundation to help him/her develop his/her maths skills.
Boosts self-esteem
By learning to accept and give constructive critism, your child can turn negative feedback into positive change helping build self-confidence.
Why as a parent you should also play with Spike
Learn with your child
You can too learn the basics of music literacy that will help you support your child's progress and practice at home.



Brings family together
You will be able to help your child with his/her practice at home by getting involved with Spike.



Establishes a strong teacher-parent link
Using the same tool as your child's music teacher is a way for you to engage with your child's practice and follow his/her progress.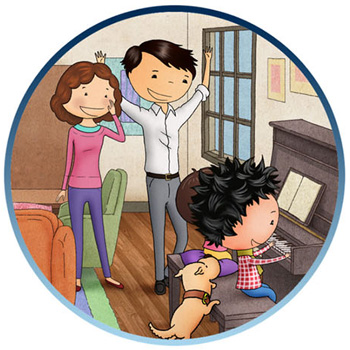 Strengthens emotional bonds
Joining in on the learning journey with Spike will help strengthen an emotional bond between you and your child.



Helps with future planning
You will be able to observe the level of interest your child has in learning music longer term before investing in an intrument or tuition.



Gives you a view into your child's world
It provides a bonding opportunity that will help you relate to your child in different social settings presented by Spike's storytelling.
Testimonials
Cynthia Bonnici
Mother of 8-year-old
"This app is a great way to introduce your little one to piano. Apart from having lovely illustrations, which completely captured my daughter's attention (and mine), it exposes kids to music without having to make a big investment of getting an instrument right away. Well worth a try. One hundred percent recommended!"
Chris Ballard
Classroom Music Teacher
"I think this app is a great way to introduce young children to the world of learning piano. As a music teacher, it pleases me that the content seamlessly integrates theory and practical elements but at the same time looks to make the process fun and enjoyable for the student/child interacting. I highly recommend it!!!"
Aga Abobeleira
Mother of 8-year-old
"I downloaded Playing With Spike application for my daughter when she started learning playing the piano. She really liked it. The illustrations and short stories made learning much more interesting. I found myself using it too!"