Bring a bit of fun to your piano lessons with Playing with Spike. Using traditional methodology, this interactive app offers an exhaustive music education package that includes learning music notation, musical ear training and a virtual keyboard for exercises and tunes to practice. All this combined into one teaching method that your students will love!
Why choose Spike as your teaching assistant
Playing with Spike is the ideal teaching assistant. With a common character at the centre of the lessons, it will make the teacher-pupil bond stronger and will help create engagement and promote interest from the pupil's point of view.


Exhaustive education package
Including interactive music notation, musical ear training and virtual keyboard for exercises and practice.



Approved methodology
Recognised as part of the music syllabus in schools by the Education Department of Malta.



Engaging
It encourages pupils to practice by keeping them engaged through a likeable character, fun games and positive reinforcement.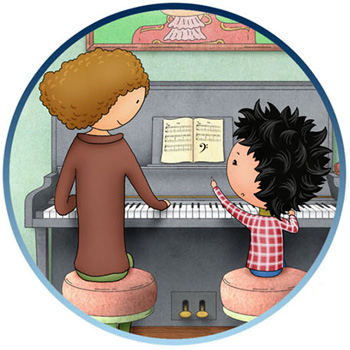 Proven expertise
Behind Playing with Spike, there are 8+ years of experience of piano and music education one-to-one and in a classroom setting.



One overall teaching method
Merging music theory, aural training and piano playing.



Dependable and trustworthy
Developed by award-winning professional pianist and music education specialist and supported by a number of reputable organisations.
Four reasons to have Spike as your partner
Easy to integrate
Very easy to integrate the app with existing teaching methods and processes.



Establishes a strong teacher-parent link
With Spike, parents are able to learn with their child, engage with his/her practice and follow his/her progress easily.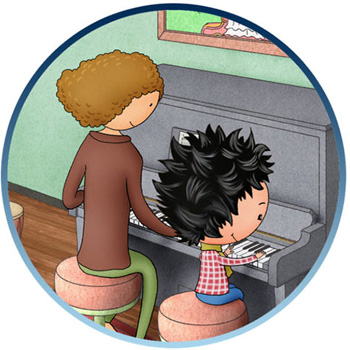 Bonding platform
It helps establish a good relationship between you and your pupils and maintain that bond.



Accountability of practice
With Playing with Spike it is very easy to monitor practice progress of your pupils.
Testimonials
James Williams
ABRSM Examiner, Piano Teacher
"Playing with Spike is a revelation for the beginner's piano teacher. This new app provides an exciting and creative interactive outlet for young piano students, allowing them to learn new skills and knowledge within the colourfully animated world of Spike."
Phillipa Thomas
Piano and Singing Teacher
"I have used this app with success for a number of young students and I have found it to be a marvellous way to motivate the more distracted ones by offering it as a reward for the last ten minutes of a lesson. The children love being able to interact with characters similar to their own age and they often ask me if they can try certain games again to increase their result."
Chris Ballard
Classroom Music Teacher
"I think this app is a great way to introduce young children to the world of learning piano. As a music teacher, it pleases me that the content seamlessly integrates theory and practical elements but at the same time looks to make the process fun and enjoyable for the student/child interacting. I highly recommend it!!!"